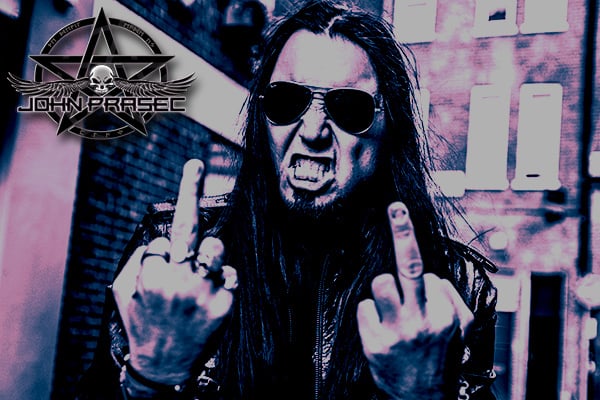 D.O.B:
Somewhere in the 80's
Country of birth:
Free Territory of Trieste
 What is your role in the band?
Lead singer and songwriter
 Why & when did you start singing?
I grew up surrounded by music. I loved the sound of the drums and at age 8, I  started to play. By the time I was 15, I played my first gig. At 18 I began writing lyrics and composing songs. Later, I decided it might be a good idea to sing them too!
How did you go about learning your skill?
At 24 I started singing and realised that maybe I had potential. I took on a tutor to better understand the mechanics and main principals of singing. Armed with the extra knowledge, I started to develop the techniques for myself. I am constantly looking to be the best that I can be and recently started vocal coaching with this in mind.
Musical Influences:
Deep Purple, Led Zeppelin, Rolling stones, Saxon, Whitesnake and anything loud to be fair.
What inspires you to write lyrics?
To be honest, I don't know precisely. They often just happen automatically. At times I take inspiration from the environment around me, people and situations.
 Where do you see the band 5 years from now?
Dominating the world's stages, playing festivals and doing what's meant to be done to give people a good time!
What's your fav band song?
It's a difficult question, but if I had to choose, I think it would have to be " Iron Horse." It's rough and powerful like I am!
What's your fav quote?
" I'm the one with the right to rock and roll" 
Who else have you played with?
Kee Marcello (Europe), Roberto De Micheli (Rhapsody of Fire), Alessandro Sala (Rhapsody of Fire, Sinestesia), Alberto Bravin (P.F.M.), Daniele Dibiaggio (Al Castellana), Luca Lunardis(S.A.D.I.C.), Nik Smailagjk (Minotauro)
 What would you say is the highlight of your career to date?
Being my own publisher. Meaning I'm in control of the whole process. I have the idea, write the song, develop the idea. I produce it and I publish it. I follow an idea from start to finish and make sure it's executed to the best it can be.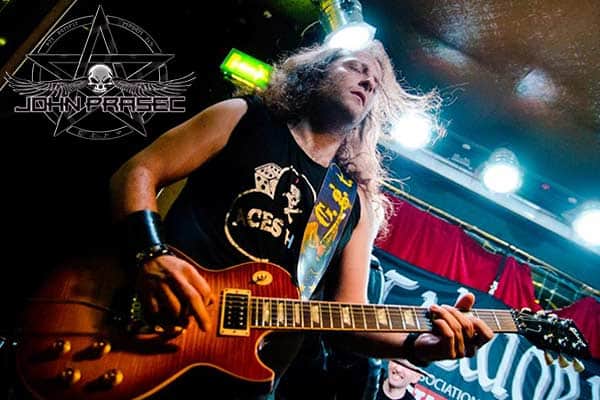 D.O.B:
15/08/1982
Country of birth:
Greece
What instrument do you play?
The electric, acoustic, classical bass guitar & the ukulele.
Why & when did you start playing?
I started playing the electric guitar at the age of 17. I grew up to the sounds of Carlos Santana, Gary Moore, Gypsy King's and Al Di Meola, as my dad was always listening to them. In fact, the first thing I remember listening to in my life was "Europa" by Santana. It wasn't long before I was a full time working professional musician.
How did you go about learning your skill?
I went to a prestigious conservatory in Ioannina, Greece for 8 years. After graduating, I went on to The Institute (currently IMCP) and Guitar X.
Musical Influences:
Judas Priest, Metallica, Iron Maiden, Halloween, Megadeath, Dream Theater, Symphony X.
How long have you been in the band?
I've been in the band for about a year now, stepping in to cover the previous guitarist. Since then, the chemistry felt right. I am currently collaborating with the guys and looking forward to putting in my contributions for the next album.
Where do you see the band 5 years from now?
I see the band playing all the festivals, as the songs are pretty strong and festival stage friendly.
What's your fav band song?
My fav song has to be "Give me your heart" from the first album.
What's your fav quote?
"I'm made of metal"
Who else have you played with?
I have played with many original, cover and tribute bands and supported the likes of: Toyah, OD Saxon, Adam Ant,Uli John Roth, Glenn Hughes andWhitesnake.
 What would you say is the highlight of your career to date?
Playing to a packed out Roundhouse in Camden, London supporting Adam Ant.
What is your most memorable moment with John Prasec?
All the backstage sex drugs and rock n roll!!! 
The first gig at the Blackheart!
George GT Stergiou
Guitar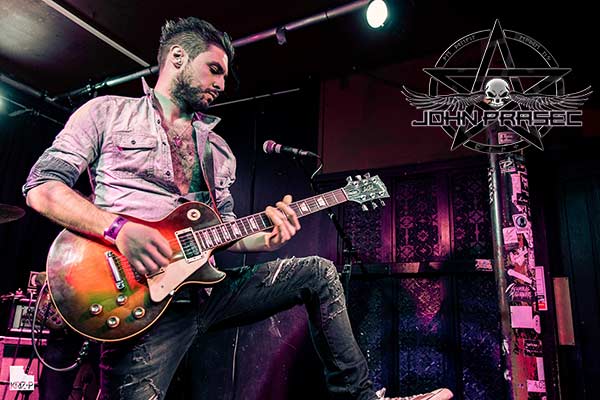 D.O.B:
2nd September
Country of birth:
Italy
What instrument do you play?
Electric & acoustic guitars
Why & when did you start playing?
I used to watch my brother playing, so one day I asked him if I could try it. I started when I was 10 and have been playing guitar for 14 years now.
How did you go about learning your skill?
In the beginning, for the first year, I was self-taught. Then I decided to take lessons from Raffaello Indri, one of the best guitarists in Italy. At the age of 18, I joined the Lizard Music Academy, in Italy completing a professional course. Later I moved to London and started my bachelor degree the BIMM Institute (British and Irish Modern Music Institute.)
Musical Influences:
Rock and funk are my main influences – Rolling Stones, Deep Purple, Van Halen, Michael Jackson, Earth Wind and Fire. When I started working as a session musician, it opened my mind massively towards other genres, like Pop and Rock.
How long have you been in the band?
I've been playing with John (lead vocals) since 2016. I was doing a recording session at Rogue Studios and during a break; I was talking with Alessio (the producer) who put me in touch with John.
What do you like about playing in the John Prasec band?
I like it because we try to keep the true essence of Rock alive.
Where do you see the band 5 years from now?
Making new music and touring.
What's your fav band song?
It has to be "Iron Horse." It's just a punch in the face!
What's your fav quote?
"Music is a safe kind of high." Jimi Hendrix.
 Who else have you played with?
At the moment, I'm also playing with an alternative rock band called "Lover," and a pop-rock band, with Thin Lizzy vibes called, "Rollingexile."
What would you say is the highlight of your career to date?
I would definitely say, the end of all my music studies have been an important moment for me.  In 2017, I worked as a session musician at the Abbey Road Studios, and that really was a great experience!
What is your most memorable moment with John Prasec?
I remember a gig at the Alleycat. During that night everything was good. The band played really well and the audience was great as well. They were queueing outside the club! Definitely one of the best moment with the band.
D.O.B:
30/01/1984
Country of birth:
Brazil
What instrument do you play?
Drums
Why & when did you start playing?
I have been playing the drums for about 18 years
How did you go about learning your skill?
I am mostly self-taught, but I did have classes with Ricardo Confessori (ex-Angra, Shaman) for about 2 years. The biggest school for me was listening to amazing drummers like Gene Hoglan, Alex Van Halen, Scott Travis and Dave Lombardo (to name a few) I would spend hours dissecting and studying their chops.
Musical Influences:
My main influences have changed a lot over the years. It began with bands like Van Halen, Iron Maiden and Judas Priest, and over the years has shifted to the heavy end of the genre, such as Slayer, Death, Satyricon and other iconic metal bands.
Nowadays I do have a quite eclectic musical taste, and can find myself listening to Russian Circles today and to Bon Jovi tomorrow!
How long have you been in the band?
I first played with JP in January 2016 for the recording of 'Unchained' but we are getting together now to craft the next chapter! I enjoy playing with JP, as it takes me back to Traditional metal, which is what got me to started playing drums in the first place!
What's your fav band song?
My favourite song is definitely The One; It's got an uplifting chorus, and it's so enjoyable to play drums to it; It would be great to be able to perform this song in every continent in the years to come!
What's your fav quote?
'Fear is the path to the dark side. Fear leads to anger. Anger leads to hate.' Master Yoda
Who else have you played with?
I have played with Brazilian bands such as, After: Life, Opera, Avantgard in Brazil, but here in the UK I play with Elbrano and of course John Prasec.
What would you say is the highlight of your career to date?
My main highlight was a festival I played with Opera in Santo Andre (Brazil) which had a huge crowd. Sadly they didn't know many of our songs, but when we covered Master of Puppets and all hell broke lose! It was sensational watching all those boys and girls jumping around like mad! What a day!
Enrique De La Verde
Bass Guitar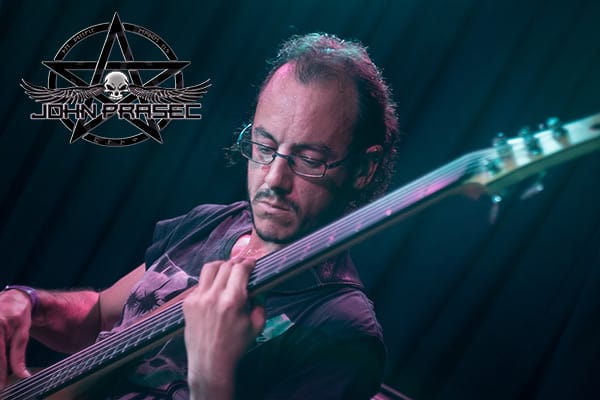 D.O.B:
24/05/1977
Country of birth:
Spain
What instrument do you play?
Electric bass
Why & when did you start playing?
I started at 18, wanting to make noise with a bunch of friends. Years later, I started playing as a professional in show bands, gigging throughout the country for several years. I've taught bass for the last 4 years in L.E.M (Modern Musical Lab).
How did you go about learning your skill?
I am self-taught, although I did take a few classes in E.C.G.(Escuela Cantabra de Guitarra) with "Quiu" as my tutor.
Musical Influences:
I have many influences from Pop to Jazz, Soul, Funk, Metal, Rock, Flamenco, Fusion. Weather Report, R.H.C.P, M.Davis, Arthur Maia, Paco de Lucia, V.Wooten, Mr.Bungle, Primus, Faith no more . . .
How long have you been in the band?
I've been in the band for about a year.
Where do you see the band 5 years from now?
Touring Europe and Latin America, carrying our power live!
What's your fav band song?
mmm TEASER!!!
What's your fav quote?
Yellow teeth, brown tie. (unknown author)
 Who else have you played with?
Jazzfunkers, Oz, Empty Heads, Mehnay...
What would you say is the highlight of your career to date?
 A recorded album that didn't see the light with my first Band Jazzfunkers, in all our glory!
What is your most memorable moment with John Prasec?
I guess the blackheart gig. It was a powerful show.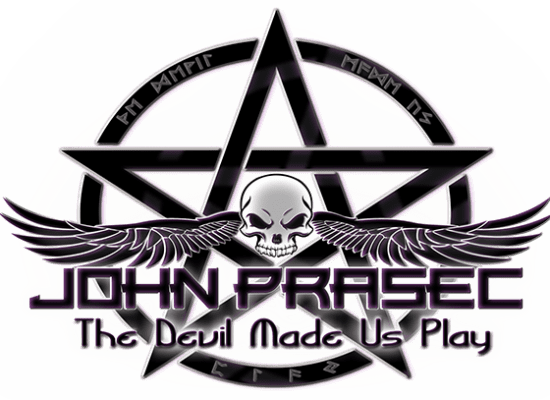 Think you know all there is to know about the John Prasec band? Think again! 
Open the tab below to reveal how JP really came together . . .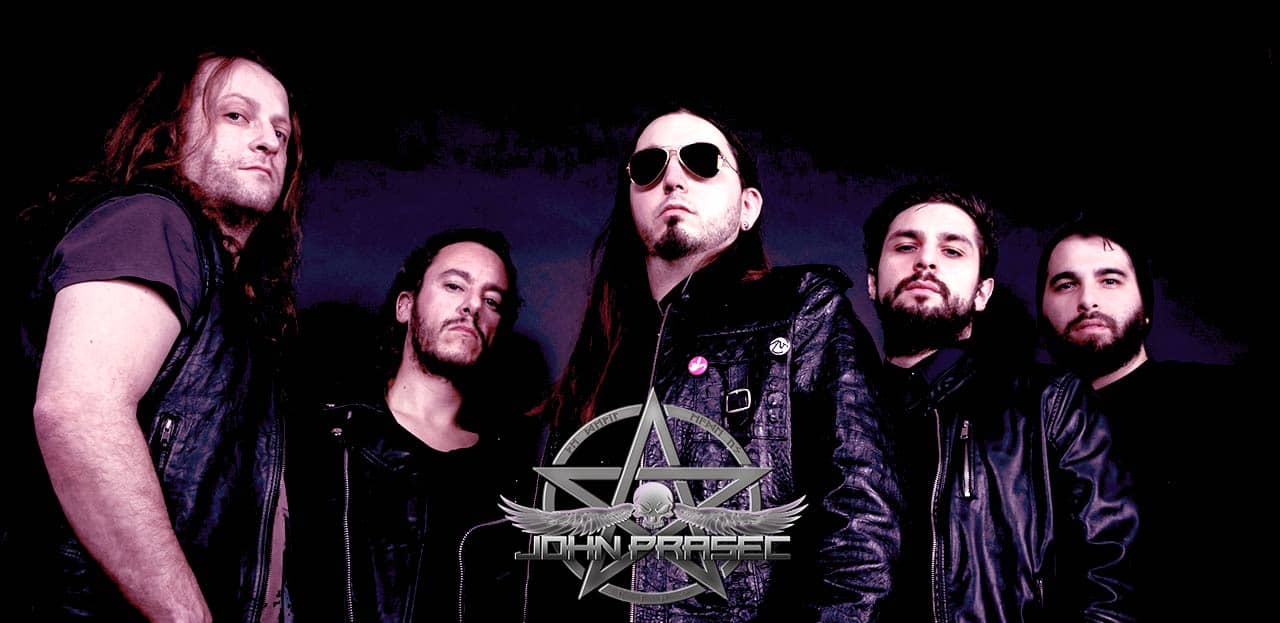 The Real John Prasec Story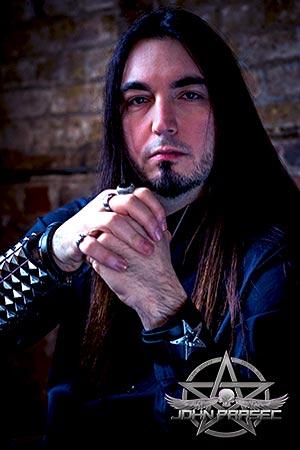 Destined to be a rock star one day, John Prasec started playing drums at eight years old in his home town Trieste. He'd spend hours talking music with his buddy Daniele Dibiaggio, or playing in his high school band "Sunlow." He quickly set his sights on stardom, and by fifteen, John was playing his first gig.
At eighteen, he put pen to paper and wrote "God save Rock n Roll." John sung and played drums, and Daniele played the keyboards, bass and guitar. To them the song was a dream, but the real test would be the audience. With fingers crossed, they played their tune to their friends, hoping that they would like it. To their surprise, they didn't just like it, they loved it! It was a huge hit.
That song was to later launch John's career, if only he and Danny could work out how to put a demo together! The boys didn't have a clue how to go about it, but they were so excited, that come hell or high water, they were going to work it out, and they did. In just one week, they had managed to put together a large batch of homemade single cd's.
They recorded that first demo on a computer with a very old version of cubase and a cd burner. They designed and printed the artwork, cut each one and put them in the sleeves, old school style. Before they knew it, the cd's were flying out the door. The feedback was amazing and everyone wanted them to play. The boys' hard work had definitely paid off. 
One of their friends suggested they did a live show, and John and Danny jumped at the idea. Word got out and it wasn't long before they hooked up with local guys, Alberto Bravin (Drums) Roberto De Micheli (guitar) Alessandro Sala (bass) - three phenomenal, professional musicians. Although these guys already had other musical obligations, they liked the idea of being part of a light hearted and fun side project.
With a few more original songs in their repertoire, and just four rehearsals, the John Prasec band smashed it out of the park, at their first gig in the Oblivion Pub in Trieste. On the 27th March 2007, they played a mixed set of classic rock covers (Deep purple, Led Zeppelin, Rainbow and Queen) and their own original music. The pub was rammed, and the crowd went ballistic. The John Prasec band killed it that night, and with such success came the obvious requests for bookings and more shows.
They went on to play a few more gigs to rapturous applause, and John soon started to realise that this thing had legs. The problem was he didn't have a committed band. As more dedication became a requirement, the various band members started to go their own way. This meant John had to go on another mission to find new players. After some time, Alberto was replaced by Jimi Bolco, Roberto was replaced by Luca Lunardis, (aka Lion Kubajashy) and Saverio Gaglianese replaced Alex Sala. New band, new start. They went on to play shows all over Italy and in 2008 they started to record their new material.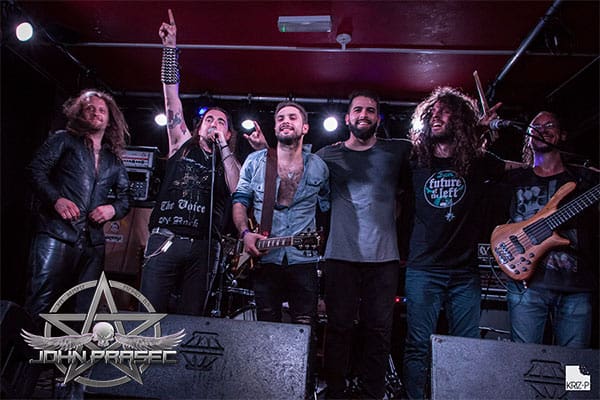 By 2009, they enjoyed significant show successes including, the "Friday Grass Carnival" concert in Muggia, Italy, where they played to a crowd of over 4000 people. To add to this momentous occasion, was yet another memorable live show, in Trieste. John Prasec performed alongside guest lead guitarist, Kee Marcello from rock band Europe in a sold out theatre.
In the summer of 2012 John took a short break from his band and sung lead vocals with the Slovenian rock band "Wicked".
Later that year, John decided to take up an offer to sign up with a prestigious record label in Milan. John met with the producer who really liked what he'd heard and decided to publish; "God save Rock n Roll." The song was released on iTunes on the 6th of November, and hit the Italian charts with a bang, reaching position 44. It gained lots of exposure and of course, publicity. Ultimately skyrocketing John's popularity and fan base in both Italy and Japan. The John Prasec band was flying high.
An excellent result for the record label. With such momentum, the only way was up, or was it? Out of the blue, with no explanation, the label announced they were replacing the artistic manager. You'd forgive John for assuming the record company had an ace up their sleeve.
Instead of diamonds, however, what he got was the ace of spades. In the form of an uninterested party who couldn't care less about the music, and even less about where the band was headed. John didn't know what had hit him, one minute the band were in the shiny limelight, and the next, they were down the toilet!
John had signed a five-year contract, and the label owned them. They didn't care about John's protests. He could rant all he liked, it was their way and that was that. He'd quite literally signed the band to the devil.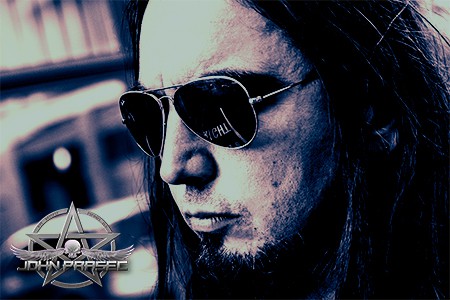 The label wanted John's pre-recorded material, but he refused to hand the files over. Eventually, they offered him a get out clause, for the princely sum of £30,000. John's response is unprintable, but believe me when I tell you, the sun doesn't go there! It was sink or swim time, and there was no way John was staying with these sharks. He pored over the contract to find a loophole that would release him from this hell.
When something is meant to be, it happens, and for John Prasec, it seemed fate was in his favour. The contract had been poorly written, omitting such things as copyright and royalty clauses in certain countries.
So that was it, no need to sleep on it. John had had enough. The band had played everywhere there was to play, and there was no room for manoeuvre. They had come to the end of the road, in Italy at least. It was time to breathe a new kind of air.
He bribed the studio engineer, copied the files to his hard drive, obtained a visa for Canada, packed his bags, and jumped on a plane to …… London. His plan was to have a brief stay there, catch up and say farewell to long-term friends, Ed and Stefania before relocating.
Technically, he hadn't broken his contract, and the record label had learned a valuable lesson. He wasn't anyone's puppet. If anyone was going to be pulling the strings, it certainly wasn't going to be them.
After the record label fiasco, John went on to enjoy some much-needed downtime with his friends. During this time, he continued to make plans for his upcoming travel. That is until fate stepped in, and Ed Randall declared that he was planning to buy a rehearsal studio. Suffice to say, this was music to John's ears. It put a whole new slant on things, and all thoughts of Canada shot out of the window.
He was fortunate to meet with many interesting people like Alessio Garavello, the studio engineer. When they were introduced, it was as if they'd had known each other for years. Maybe it was the common love of music or just a natural affinity. Either way, John felt a connection with many of the musicians that used to frequent the studios.
It was an exciting time helping Ed set things up at Rogue studios. In fact, he was having so much fun, that when his visa finally expired, he didn't even realise! Everything was going really well, and John was in his element. He loved being at the studios and couldn't have wished for more. However, it soon became obvious that  Ed had other ideas, when he revealed to Alessio that John's song had been in the charts.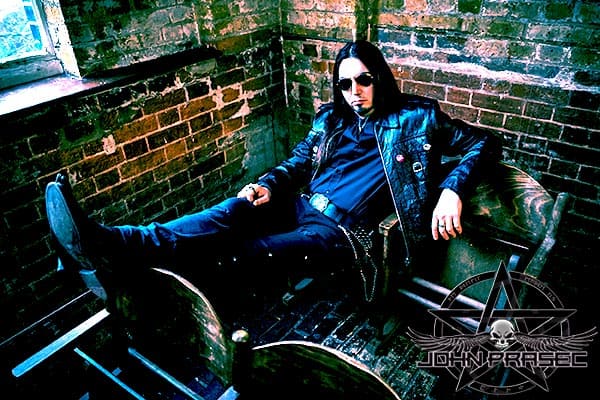 Not one for having the wool pulled over his eyes, Alessio did a google search on John. He nearly fell off his chair when he realised he wasn't kidding. He asked John if he had any more songs he could hear, and of course, he did (remember the hard drive?) But, after his bitter experience, John was disillusioned with the music business. He was quite sure he was done. It had been a very stressful time and he had no interest in going anywhere near that road again.
Alessio understood John's reluctance, but managed to persuade John to bring his hard drive in the next day. They listened to the tracks in the control room and Alessio was truly impressed. He told John he would be completely nuts if he didn't go ahead and publish the songs straight away. John wasn't convinced, but Alessio kept on, reminding him that he was free to do what he wanted. The contract had no hold over him here. He already had the music files, and this meant he was already 80% of the way there. It was simply a case of re-recording the vocal lines, mixing, mastering it, and a bit of dubbing here n there. So John went away and toyed with the idea. He searched his soul for direction and soon realised that Alessio was right. It was time to move on and get some kind of closure. After all, what was the alternative? Leaving the tracks gathering dust in a drawer somewhere for the next 20 years and then later agonising over "what if I had done this or done that." No, that wasn't the John Prasec way. It was time to take a leap of faith, take Alessio at his word, and go for it.
Together they worked on it and finished producing the EP quickly. The next step for John was to set up his own record label and see where this journey would take him. It was a project that took a long time to accomplish. As the song goes, once bitten twice shy. Naturally, it was important that he got everything right. John made sure he covered every angle and had complete control. In a moment of madness, and maybe a few too many Jack Daniel's, John came up with name, "Lola Bumpher Conspiracy" aka L.B.C. Records to release his EP, the self-titled, "John Prasec" on 26th September 2014.
The album received a lot of adulation especially in Italy and Japan, and even started to get reviews. The response re-ignited his passion, and his earlier feelings of retiring quickly vanished. Yet what was next on the cards was anyone's guess. Unsure of which direction to go, John choose to put the feelers out around the studio for some session playing. This led to a stint as frontman to the Heavy metal band, "Ritual," covering their 2015 reunion tour.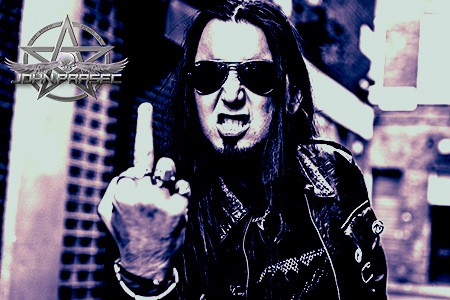 His Rock mojo was back in full swing, and he decided it was time to relaunch the John Prasec band.
During the early days of the studio, John had met and became good friends with Bruno Tolosa.  Aware of John's plans, he put him in touch with a guy called Adam Eric Milde, an experienced rhythm guitar player. Together they worked at John's home recording studio, in his small room in Ealing, putting his songs and ideas together. They turned out a song a week, and three months later had a finished demo for the album, "Unchained."
Brilliant! But Adam had returned home to Argentina after recording his parts for the album, and once again, John had no band to play the rest of the music. He set about putting all his energies into finding players for his band, but no matter how hard he tried, it just wasn't happening. Either no one was interested, they didn't have the technical ability, or they wanted more money than the budget would allow. This became a pattern of events that was to reoccur all too often.
It was time to think outside the box. So much so, it lead to a couple of phone calls to Trieste and his old buddies Daniele and Luca. John put his dilemma to them, and the solution came. "Yeah man, it's 2015 we have FaceTime, we'll do it, why not!" 
So that's what they did! They used FaceTime and Google Drive to share the files, and went from demo to pre-production. They were almost there, except for one hitch, they needed a drummer. John contacted several drummers in London, but they all wanted too much money. Frustrated, John finally contacted Bruno. He hadn't approached him before, because he knew he was busy recording a new album with his own band "El Brano", but it had to be worth a shot. Bruno asked when he was planning to record, and as luck would have it, they set a date for the first week in January 2016.
The scene for this amazing collaboration was set. Vocals and drums in the UK, bass and lead guitars in Trieste! The guys put together a system to enable them to record their individual sessions in two studios in two countries, at the same time. You can imagine the pace at which they worked, when for example they were recording drums here in London, editing and then bouncing the track over to Trieste.
Luca would record the bass over Bruno's drums down on the Adriatic shoreline, while the next section of drums, were recorded by the River Thames. Then it would be over to London again to add Adam's "re-amped" rhythm guitars, and back to Trieste for Luca's leads and Daniele's Keys & Hammond.
The drums alone were a mission to complete. Bruno was suffering with severe back problems at the time and it was only through his dog-eared determination, and lying down between takes that he got through it.  John spent eight hours a day, for four day in row in the booth. He had a maximum of three takes per song to record his vocals or blow his budget.
It was the only way to get it done, but it also meant that the organization and discipline involved kept them on budget and schedule. The album was released on 16 of June 2017.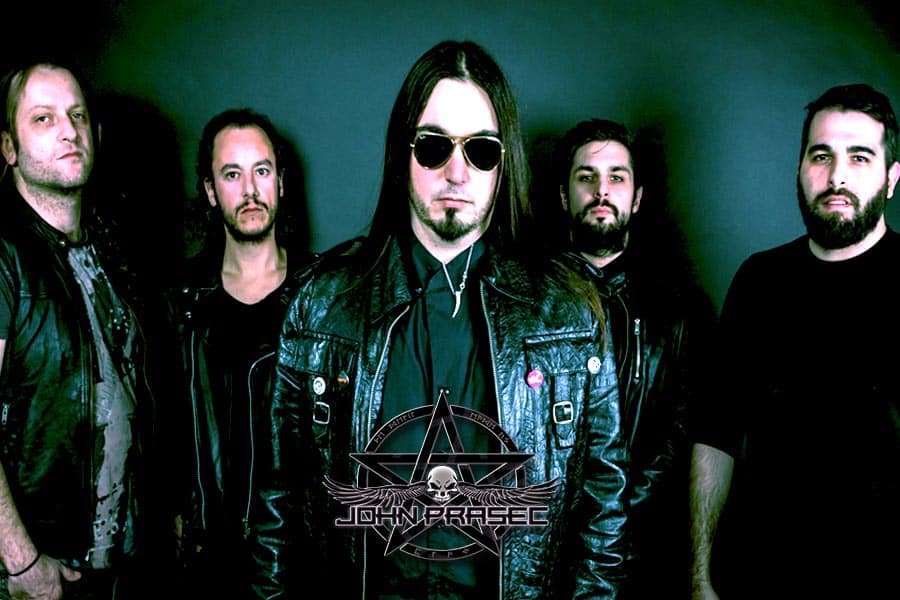 John contacted some big labels, and the consensus was that it was good and they liked it. However they didn't think there was a market for it, and the answer for now, was no. Rather than feeling disappointment, it spurred him on. The very fact that he had even had a response, was enough to give him hope. Maybe, just maybe, they had something.
By now, you know the drill; John was stuck without a band. It was like a bad habit he couldn't kick. The only consistency with the John Prasec band, was John Prasec himself. He spent months trying to find the right people to put together, but it was the same old story. Eventually though, his persistence paid off and he managed to put a line up together with Grigor Zaka (drums) Federico Bianco (guitar), Enrique de le verde (bass) and Jose  Costa (lead guitar). They played together for 3 months, but the chemistry wasn't quite right and John wasn't willing to compromise anymore. It was do or die and he wasn't planning on lying down. 
John brought in Mathieu Spaeter to play lead guitar and Jimmy Pallagrosi to play session drums, until he met up with George Gt Stergiou who then took over solo duties from Mathieu. Unfortunately, this association also didn't last long, and Bruno returned to the stool to finally stabilise and ignite the line-up. This turned out to be a great combination. It was agreed that in order for Bruno to continue with his other band, that Jimmy would play session drums. This in turn gave Jimmy the time he wanted to spend on his solo career and everyone was happy.
This turned out to be a great combination and ten years down the line, John finally had the band he had always wanted. Together they are rocking out new material, and the guys are on fire. Chemistry is key, and the John Prasec boys finally have it.
By Jen Rock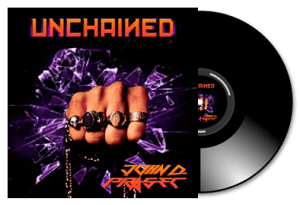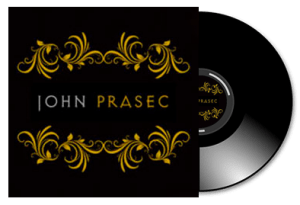 What they're saying about us!
"This is five songs of pure, in your face, swaggering heavy rock.
Superb guitars and vocals. This is a must listen "

Frenzy Fire UK
Music Reviewer
"Light" was the highlight for me as it contained some impressive lead guitar and some heavy-hitting drums. It had a hardcore edge that went well with the style"

Ted Rogen
Writer at Divide & Conquer
WARNING!
Hold onto your hair. It's gonna be louder.
It's gonna be harder. It's gonna be heavier.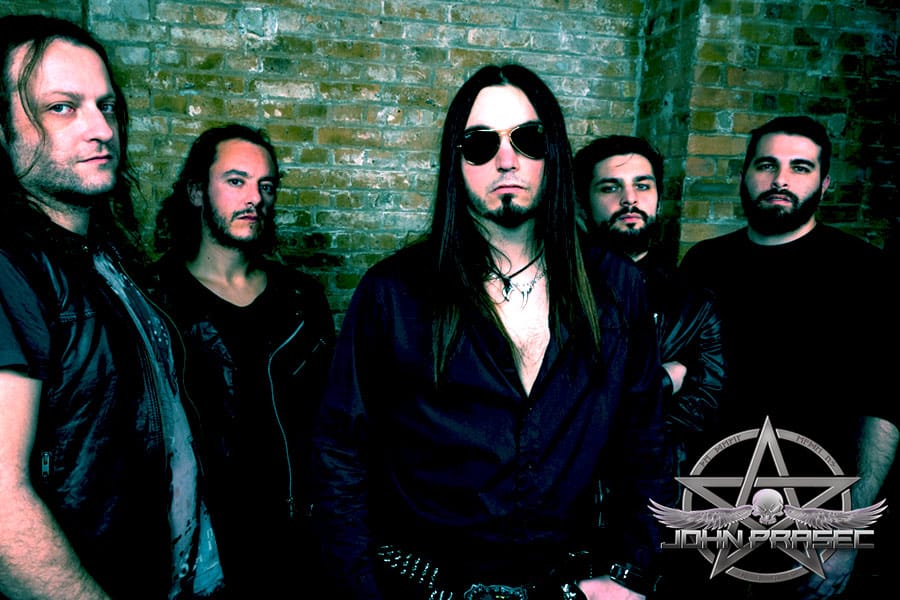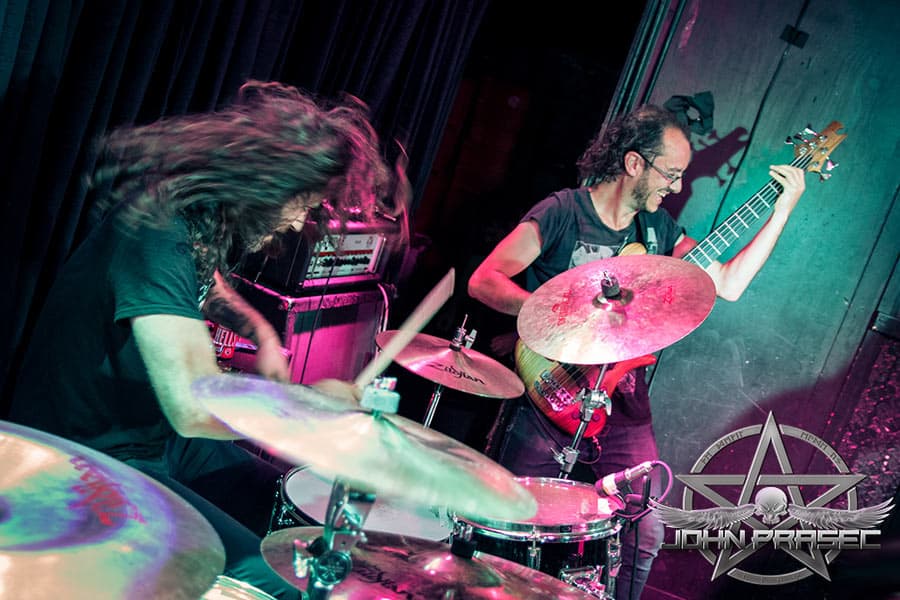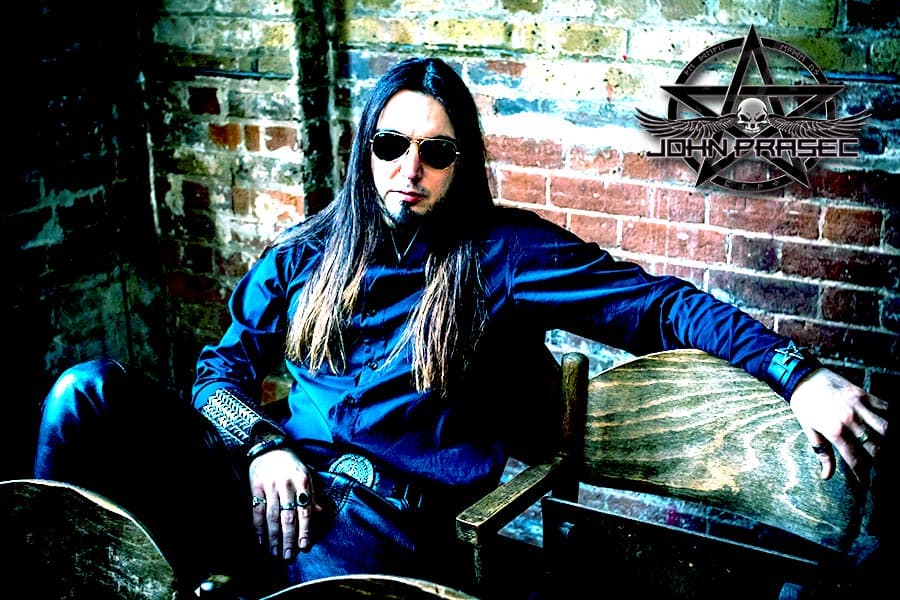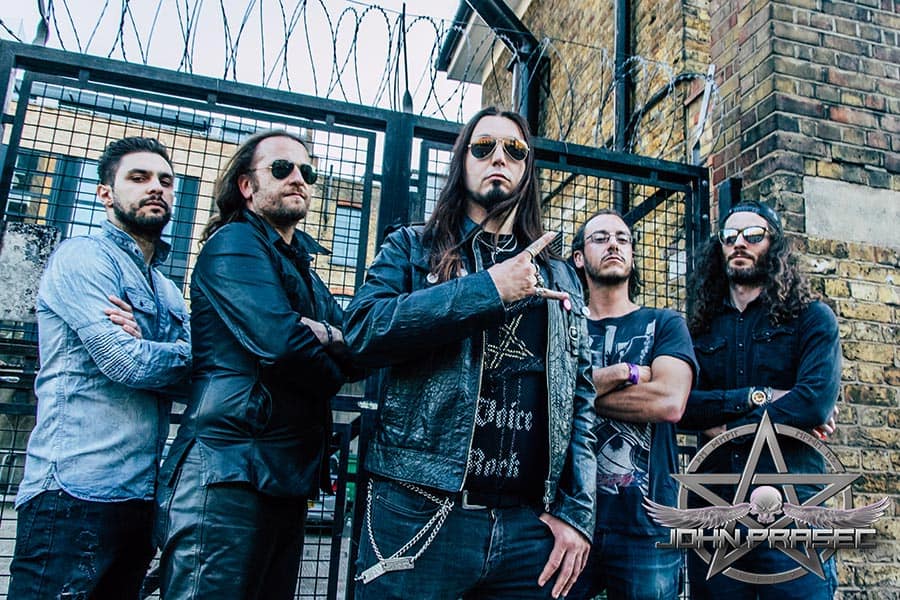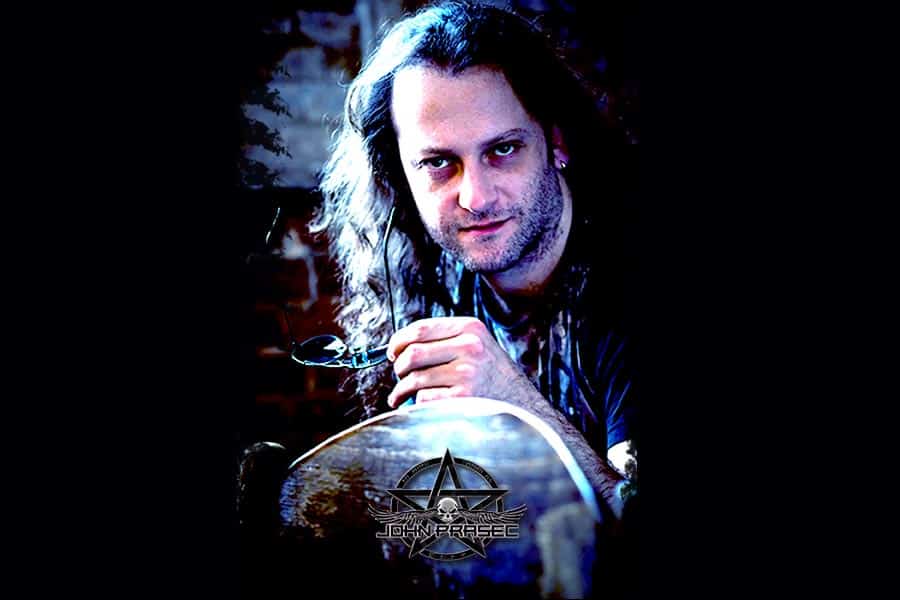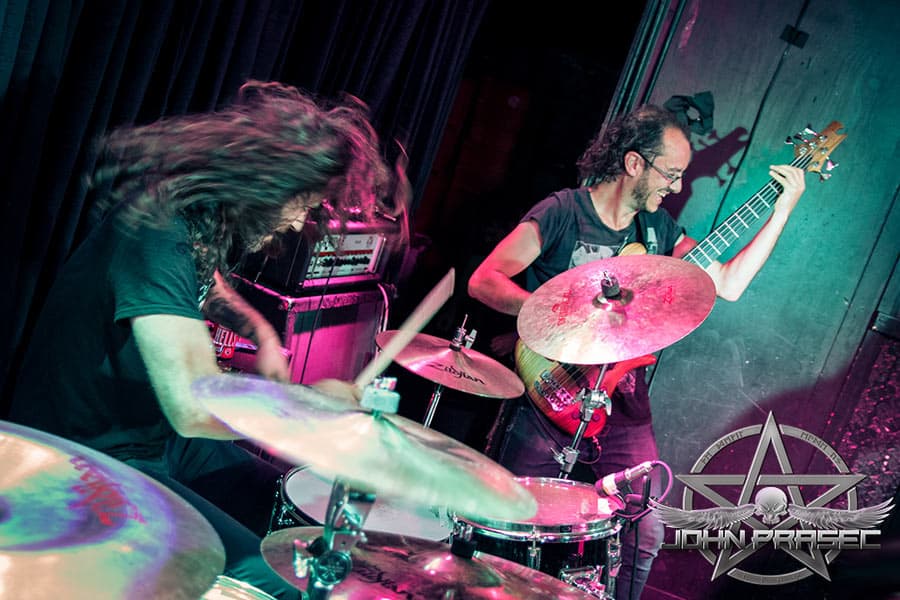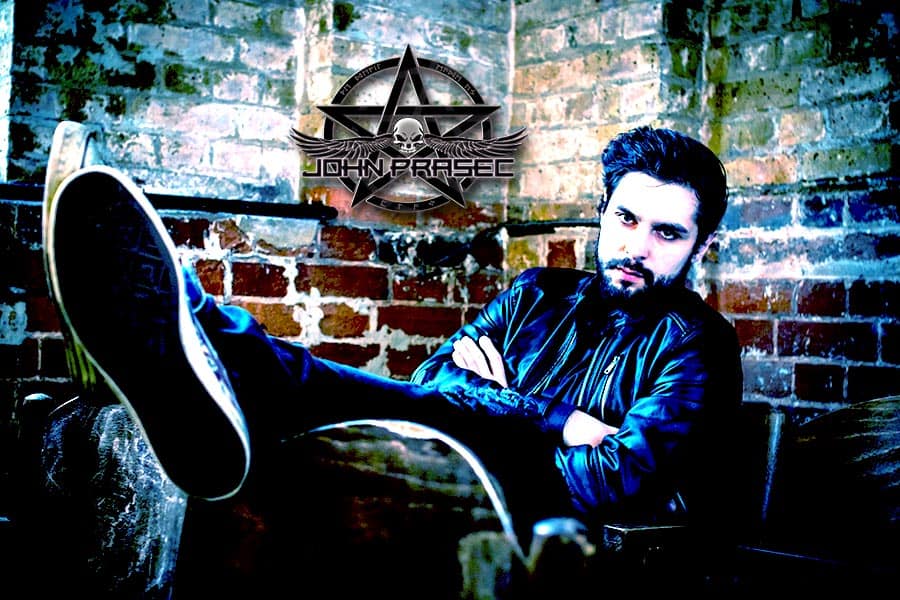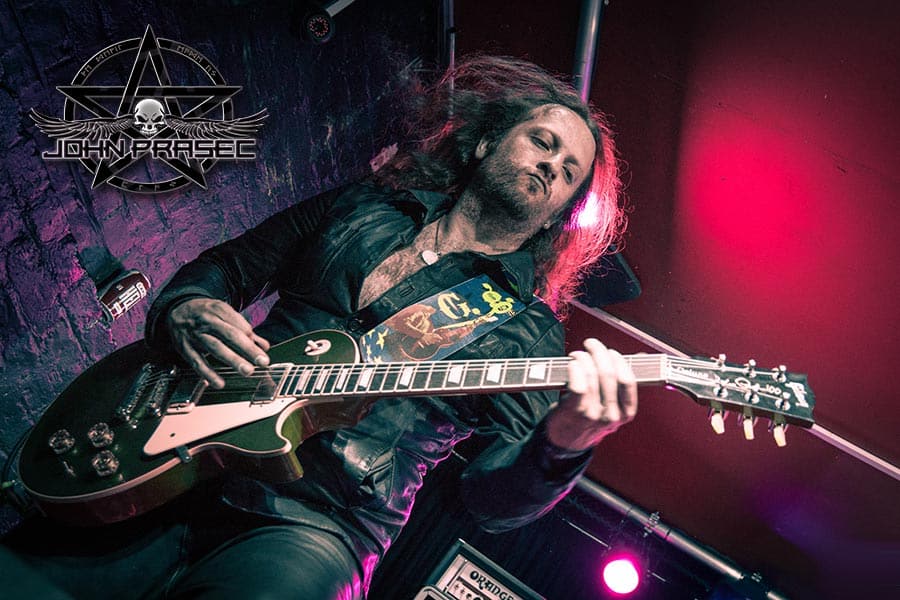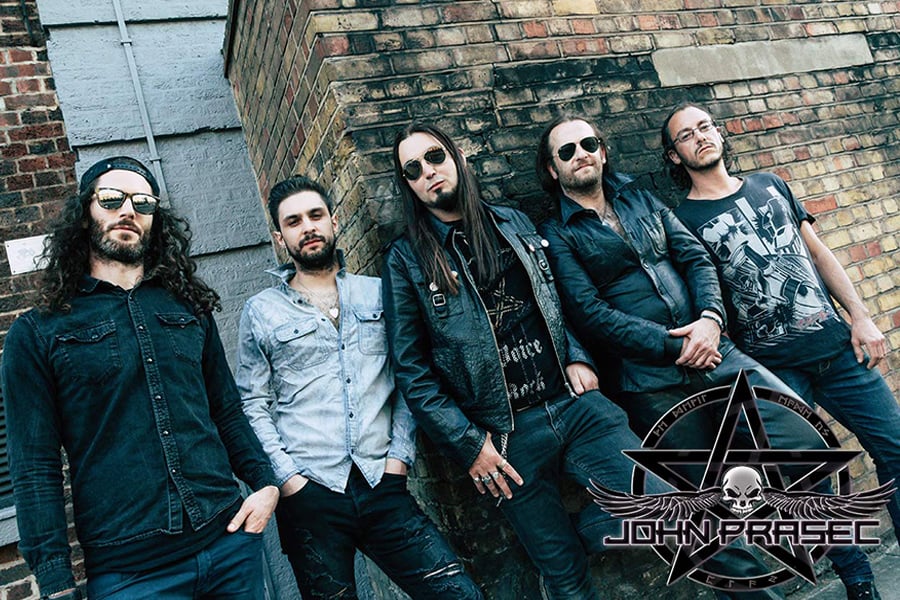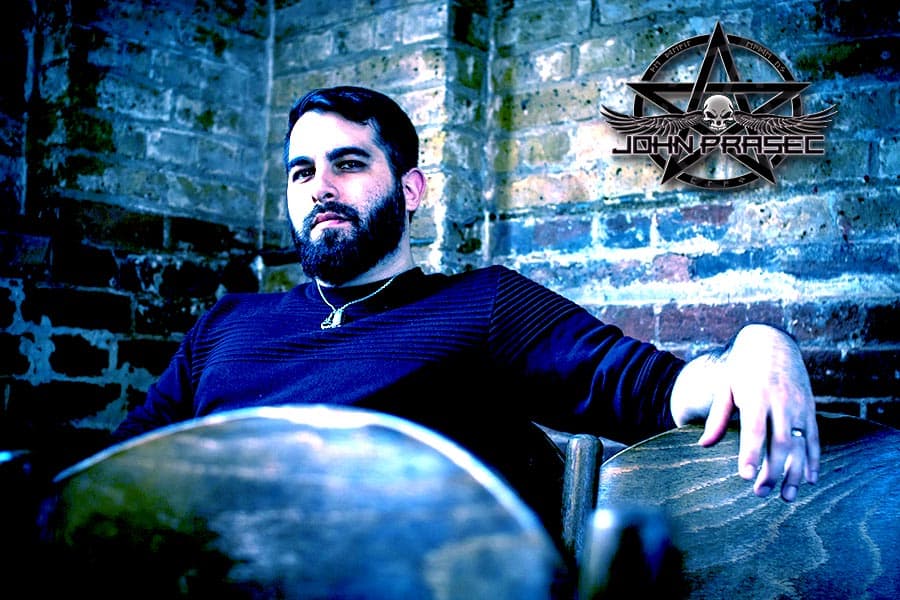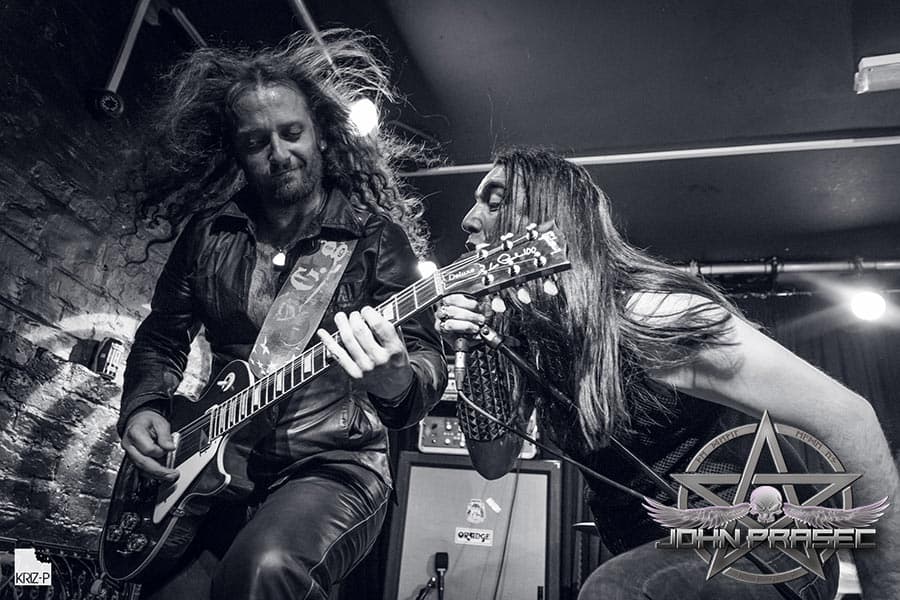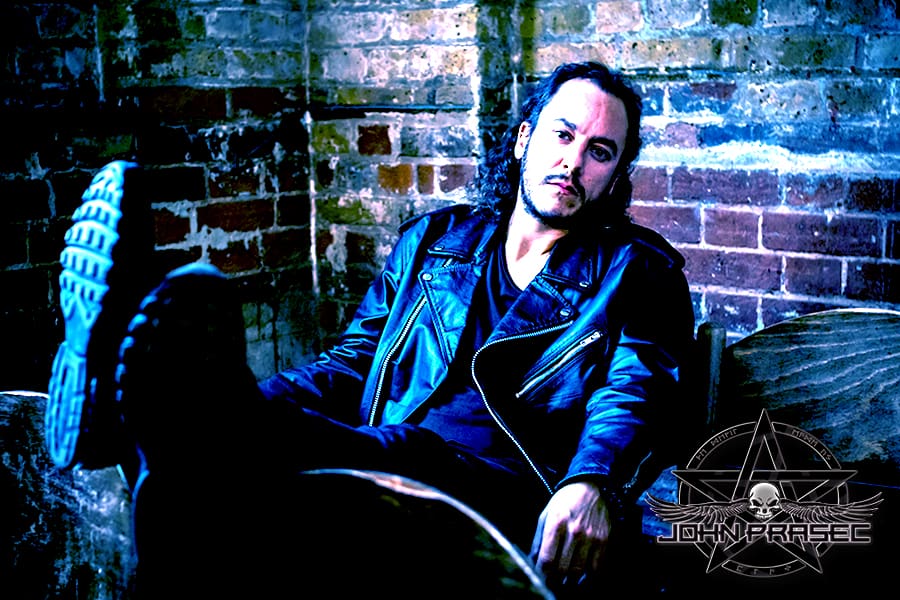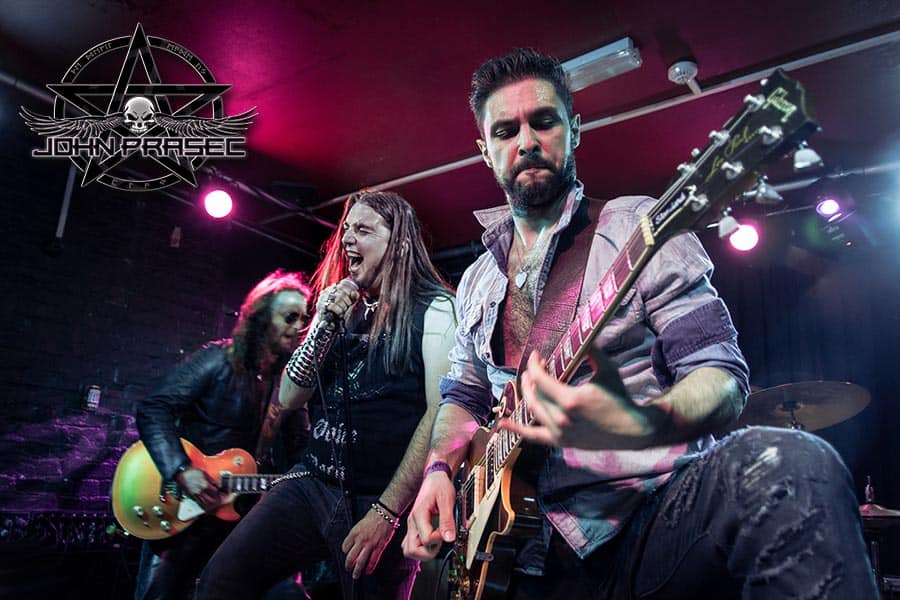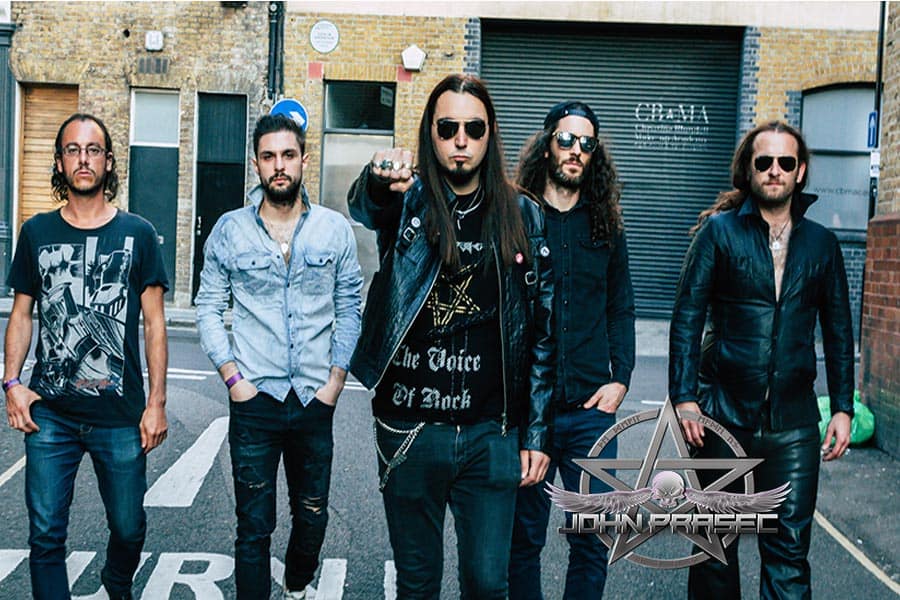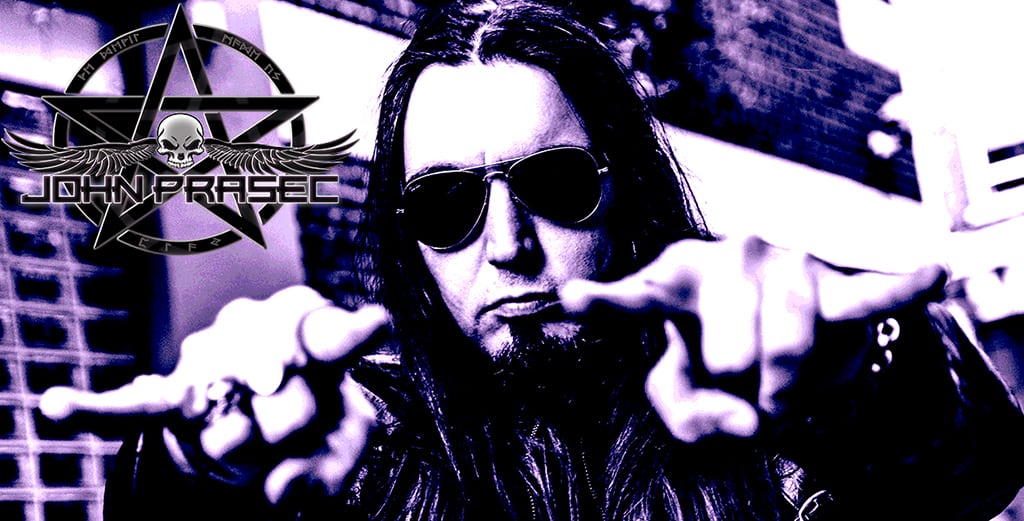 Don't Miss Out On Our Latest News Dude!